Training centres Kollam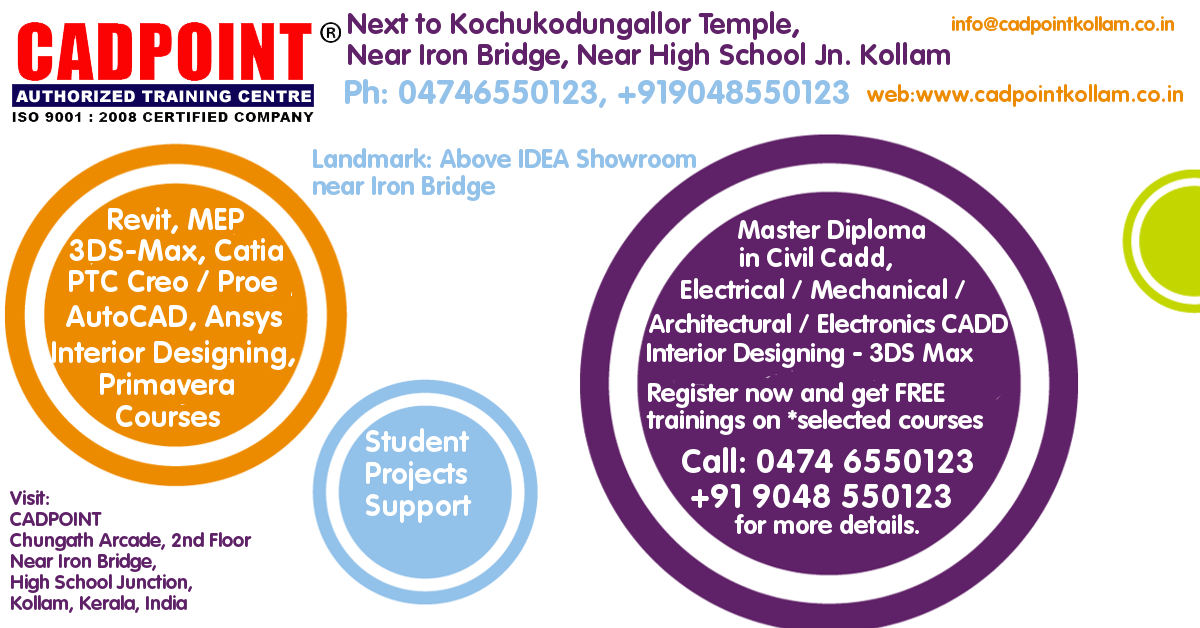 Training Centres Kollam Kerala India CAD Training AutoCAD Revit Primavera MEP Civil Mechanical Electrical CAM +919048550123 Staad Civil CAD AutoCAD 3Ds Max Microstation REVIT Architecture Total Station Civil 3D, Map 3D Interior Designing Structural CAD ETABS & SAP 2000 STAAD Pro Ansys Civi Quantity Takeoff (QTO ) V-ray Electrical/ Electronics CAD AutoCAD 2D AutoCAD Electrical Electronics CADD PC Schematic ORCAD PLC & SCADA Industrial Electrical Electrical Estimation Instrumentation CADD Industrial & House Wiring CAD Instrumentation CAD Electrical System Designing Mechanical CAD AutoCAD Mechanical Pro/E, CATIA HVAC MEP Nx Unigraphic CAD Autodesk Inventor Aeronautical CADD Piping Designing & Drafting Instrumentation CADD Ansys GD & T CNC Programming Solid works Master CAM Project Planning Primavera M.S Project Estimation Quantity Survey PPM Concepts Six Sigma PRINCE 2 PMI Certification Training MEP & HVAC AutoCAD MEP Revit MEP HVAC Designing & Drafting MEP Designing & Drafting Duct Sizer & Duct Checker HAP Pipe Sizer Piping Designing & Drafting Microsoft Excel Advanced Interior Architecture & Designing
AutoCAD 2D & 3D 3Ds Max Google Sketchup Adobe Photoshop Advanced Excel Estimation PPM & Primavera Video Editing
Interior Designing Theory Training Centres Kollam Civil CAD Draftsman(CCD) Electrical CAD Draftsman(ECD) Mechanical CAD Draftsman(MCD) Instrumentation CAD Draftsman Mechanical Modeling & Analysis Course
Mechanical Modeling & Designing Interior & Exterior Visualization Civil Architectural Designing Course Civil Structural Analysis Course Industrial Electrical Designing Course Project Planning & Management Animation & Multimedia Photoshop CorelDraw & Illustrator Indesign & PageMaker Cartoon Creation EDIUS After Effects Digital Video& Audio Editing Quark Express Final Cut Pro (FCP) Maya Animation Desktop Publishing (DTP) Visual Effects Compositing Animation & Architectural Engineering Our CADPOINT Kottarakara also offers Courses like SAP ERP TALLY ERP PGDCA DCA C& C++ M.S OFFICE Diploma in Computerized Financial Accounting ASP .net VB.Net & C# .Net PHP Programming Java Programming & J2 EE Android Web Designing & Python
Training centres Kollam
Accelerate your CADD training by reaching out to our Training centres Kollam- CADPOINT 04746550123 9048550123 An Authorized Training Center (ATC). Work with knowledgeable and experienced instructors in quiet classroom settings utilizing our CADPOINT sample projects and exercises that emphasize real-world challenges, practical applications. our authorised training centre in kollam offer a variety of courses, and many can help you prepare for an Autodesk Certification. Our CADPOINT Training centres Kollam for ANSYS training is a great way to maximize the return on your simulation investment and accelerate simulation driven product development quality training for students aswell as working professionals
For more information about the Training Centres Kollam Kerala India CADPOINT– CADD Training Kerala, Visit our centre in at CADPOINT, 2nd Floor, Chungath Arcade, Near Iron Bridge, Next to Kochukodungallor Temple, High School Junction, Kollam, Kerala, India
Ph: +914746550123, +919048550123 email: [email protected]
We CADPOINT Kollam conduct the classes in a live classroom or through a virtual classroom with a live instructor, in a public or private setting. The courses are available in a number of cost-effective options such as individual classes, individual to unlimited classes, or bulk team or college of classes.
Training Centres Kollam Kerala India CADPOINT
With our decades of experience we CADPOINT Kollam have developed a proven curriculum for the advantages of our students that maximizes learning and retention, and our courses are optimized to best utilize time spent in each class. Our CADPOINT 04746550123 9048550123 Training Centres Kollam courses provide the theory behind the engineering simulation solvers, critical for understanding and interpreting the results generated. Knowing the meaning of the key input values and the use of best practices for problem set-up and result analysis greatly accelerates productivity. Hands-on exercises provide familiarity with the product and lead to quick and confident adoption.
If you are happy to receive updates about the courses we offer at CADPOINT Kerala India, You may follow our updates from Google Plus, Facebook or Twitter pages
Training Centres Kollam Kerala India CADPOINT
For corporates- Our CADPOINT training services empower your team to maximize the return on your simulation software investment, enabling them to produce better products more rapidly. If you are looking for CFD training, FEA training, HFSS training, Icepak training, Maxwell training, or any other engineering simulation training, you will find what you need in our repertoire of courses. We love providing trainings and thats our bread and butter. Our day to day challenges made us to boost the staff quality and we are the best cadd training in Kerala India now.
AutoCAD
Autocad Trainings AutoCAD civil 3dAnsys Catia Training Civil CAD Training Electrical CAD Training Mechanical CAD Training MasterCAM Training MicroStation Training Microsoft M.S. Project Training 3DS Max Training Solid Works Training Solid Edge Training Revit Architecture Training Revit MEP Architectural CAD Training Revit Structural Proe / Creo Software Training STAAD Software training Interior Designing Master Diploma in Civil/Electrical & Mechanical CAD Primavera Training PPM (Project Planning & Management) Training Microsoft M.S. Project Estimations Training Programming Languages – C, C++, C#, Asp .net, .Net, Java, J2EE, PHP Training Database Training – Mysql, Sql Server, Oracle Digital Marketing System Administration- Linux Computerized Financial Accounting CAD Center Kollam High School Junction Adobe Photoshop/Illustrator/CorelDraw Adobe In design CADD Training Kottarakara CADPOINT Training Institute Kerala India AutoCAD Training KottarakkaraMaya/Flash/After Effects/Sound Forge Web Design/Graphic Design/Video-Audio Editing Catia Civil CAD CADD Centre Training courses
Autocad Training Kerala India
CADD Centre Training Kerala India Mechanical CADD Trainings Kollam Diploma in multimedia Animation ( 1 Year ) Architectural Engineering Training
Autocad Training Kerala India
AutoCAD MEP Kollam Mechanical CAD Training Institute in Kollam STAAD Software Training Kollam Autocad Primavera Kollam Autocad Training Kollam AutoCad Civil Cad trainings kollam CADPOINT training Kollam Location CAD Training Institutes
3DS Max Kollam Primavera Course Training Kollam CADD Training Kollam Revit Architecture Training Kollam CADD Centre Training Kollam Autodesk 3DS Max Training Kollam CADPOINT Training Institute Kerala India
Training Centres Kollam