CAD Training Kollam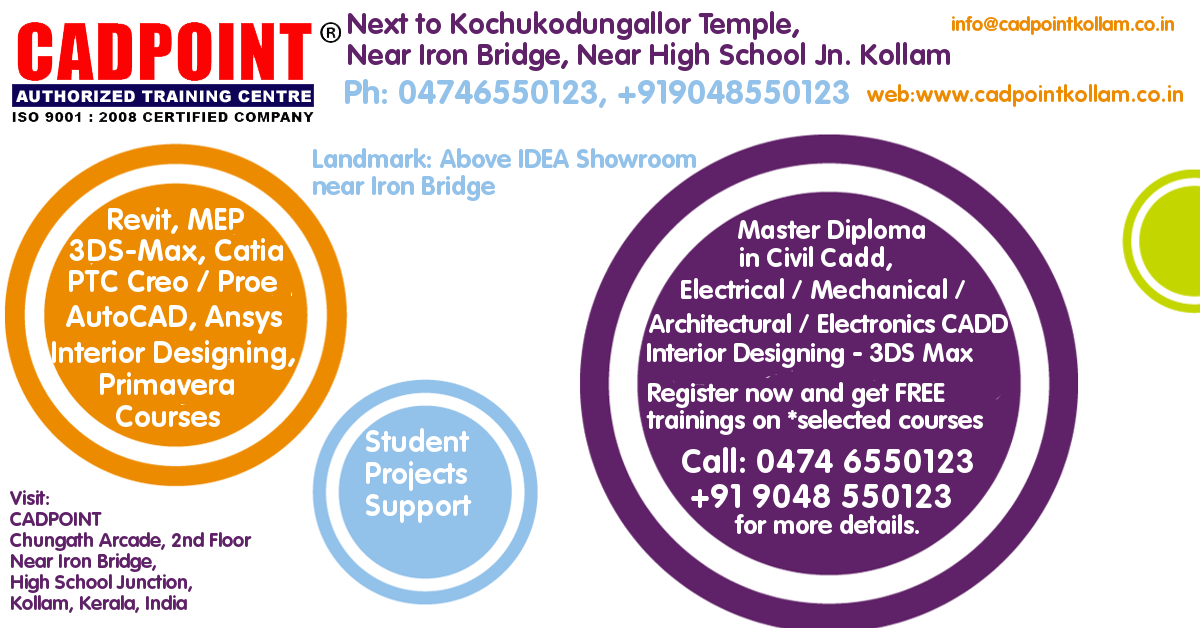 CAD Training Kollam Kerala India
CADPOINT Kollam CAD Training AutoCAD Revit Primavera MEP Civil Mechanical Electrical CAM +919048550123 Staad Civil CAD AutoCAD 3Ds Max Microstation REVIT Architecture Total Station Civil 3D, Map 3D Interior Designing Structural CAD ETABS & SAP 2000 STAAD Pro Ansys Civi Quantity Takeoff (QTO ) best cad training kollam kerala best autocad training kollam V-ray Electrical/ Electronics CAD AutoCAD 2D AutoCAD Electrical Electronics CADD PC Schematic ORCAD PLC & SCADA Industrial Electrical Electrical Estimation Instrumentation CADD Industrial & House Wiring CAD Instrumentation CAD Electrical System Designing Mechanical CAD AutoCAD Mechanical Pro/E, CATIA HVAC MEP Nx Unigraphic CAD Autodesk Inventor Aeronautical CADD Piping Designing & Drafting Instrumentation CADD Ansys GD & T CNC Programming Solid works Master CAM Project Planning Primavera M.S Project Estimation Quantity Survey PPM Concepts Six Sigma PRINCE 2 PMI Certification Training MEP & HVAC AutoCAD MEP Revit MEP HVAC Designing & Drafting MEP Designing & Drafting Duct Sizer & Duct Checker HAP Pipe Sizer Piping Designing & Drafting Microsoft Excel Advanced Interior Architecture & Designing
AutoCAD 2D & 3D 3Ds Max Google Sketchup Adobe Photoshop Advanced Excel Estimation PPM & Primavera Video Editing
Interior Designing Theory CAD Training Kollam Civil CAD Draftsman(CCD) Electrical CAD Draftsman(ECD) Mechanical CAD Draftsman(MCD) Instrumentation CAD Draftsman Mechanical Modeling & Analysis Course
Mechanical Modeling & Designing Interior & Exterior Visualization Civil Architectural Designing Course Civil Structural Analysis Course Industrial Electrical Designing Course Project Planning & Management Animation & Multimedia Photoshop CorelDraw & Illustrator Indesign & PageMaker Cartoon Creation EDIUS After Effects Digital Video& Audio Editing Quark Express Final Cut Pro (FCP) Maya Animation Desktop Publishing (DTP) Visual Effects Compositing Animation & Architectural Engineering Our CADPOINT Kollam Kerala India also offers Courses like SAP ERP TALLY ERP PGDCA DCA C& C++ M.S OFFICE Diploma in Computerized Financial Accounting ASP .net VB.Net & C# .Net PHP Programming Java Programming & J2 EE Android Web Designing & Python
Tired of looking for a professional development program that was specifically developed to cater to the way that students/professionals need to learn AutoCAD, Revit Architecture, Revit MEP, AutoCAD Civil 3D or Autodesk Inventor?
Don't want to pay thousands of rupees for a class that you have to drive to in order to attend? Moreover, Can't learn by watching videos on YouTube that were put together by someone that is not an Autodesk Certified Instructor?
Maintaining a leading edge in CAD during tough economic times is a challenge faced when keeping business ahead of the competition. It is known that training is critical to honing skills and increasing productivity, yet during tough times people often do not attend professionally led training due to the high cost of travel and time away from being productive in the office. To address this hurdle, CADPOINT Kollam has brought professionally qualified instructors to led our training to right to your desktop.
CADPOINT Kollam provides instructors led CAD training Kollam on the use of all Autodesk software to designers around the world. Our CAD training curriculum is specially developed and is certified by our CAD division.
No need to take our word for it, read what our students has to say about there experience with our special form of training. Our business is running through the students reference as they are happy with the training they are receiving at CAD Training Kollam CADPOINT- 0474655123 9048550123
For more information about the CADPOINT Cad Training Kollam Kerala India– CADD Training Kerala, Visit our centre in at CADPOINT, 2nd Floor, Chungath Arcade, Near Iron Bridge, Next to Kochukodungallor Temple, High School Junction, Kollam, Kerala, India
Ph: +914746550123, +919048550123 email: [email protected]
Cad Training Kollam Kerala India CADPOINT
Everyone- students aswell as professionals has participated in some form of learning at our CAD Training centre in kollam where they are all happy about the training they received. some training institutes provide only training Webinar that consists of nothing more than PowerPoint slides and lengthy software demonstrations. These passive forms of training do not lend themselves to hands on practice or interaction with a professional CAD educator. For training on complex CAD software, these forms of training are mediocre at best.
When attending the CAD Training kollam – CADPOINT Kollam classes each student is provided with everything needed to participate in class. The AutoCAD or Revit software is available for each student to use. Cad Training Kollam Kerala India CADPOINT
All required supporting course materials is handover directly to the student's. Once in the CAD classroom the instructor can see each student's computer in real time and the student can see the instructor's computer at all times. When the student is in need of direct assistance the instructor can take control of the student's computer and directly show the student how to solve the problem. The instructor can even share a student's computer with the entire class so that everyone can learn from what someone else has discovered.
If you are happy to receive updates about the courses we offer at CADPOINT Alappuzha Kerala India, You may follow our updates from Google Plus, Facebook or Twitter pages
Cad Training Kollam Kerala India CADPOINT
Moreover, If you are new to CAD Training, you will learn the basic software concepts and features which will help you to create drawings using latest AutoCAD software version aswell as advanced, precise drafting tools at our CADPOINT Cad Training Centre Kollam Kerala India. Also, if you have been using Autodesk software AutoCAD for a while, you will find our training programs teach many advanced features and concepts suitable for professionals in a broad variety of industry.
AutoCAD
Autocad Trainings AutoCAD civil 3dAnsys Catia Training Civil CAD Training Electrical CAD Training Mechanical CAD Training MasterCAM Training MicroStation Training Microsoft M.S. Project Training 3DS Max Training Solid Works Training Solid Edge Training Revit Architecture Training Revit MEP Architectural CAD Training Revit Structural Proe / Creo Software Training STAAD Software training Interior Designing Master Diploma in Civil/Electrical & Mechanical CAD Primavera Training PPM (Project Planning & Management) Training Microsoft M.S. Project Estimations Training Programming Languages – C, C++, C#, Asp .net, .Net, Java, J2EE, PHP Training Database Training – Mysql, Sql Server, Oracle Digital Marketing System Administration- Linux Computerized Financial Accounting CAD Center Kollam High School Junction Adobe Photoshop/Illustrator/CorelDraw Adobe In design CADD Training Kottarakara CADPOINT Training Institute Kerala India AutoCAD Training KottarakkaraMaya/Flash/After Effects/Sound Forge Web Design/Graphic Design/Video-Audio Editing Catia Civil CAD CADD Centre Training courses CADD Centre Training Kerala India Mechanical CADD Trainings Kollam Diploma in multimedia Animation ( 1 Year ) Architectural Engineering Training
Autocad Training Kerala India
AutoCAD MEP Kollam Mechanical CAD Training Institute in Kollam STAAD Software Training Kollam Autocad Primavera Kollam Autocad Training Kollam AutoCad Civil Cad trainings kollam CADPOINT training Kollam Location CAD Training Institutes
3DS Max Kollam Primavera Course Training Kollam CADD Training Kollam Revit Architecture Training Kollam CADD Centre Training Kollam Autodesk 3DS Max Training Kollam CADPOINT Training Institute Kerala IndiaTraining Centres Kollam CADPOINT Kerala India
CAD Training Kollam Kerala India CADPOINT